Singer 20U
Singer 20U51 industrial sewing machine
Singer 20U53 industrial sewing machine
Singer 20U62 industrial sewing machine
Singer 20U63 industrial sewing machine
Singer 20U142 industrial sewing machine
Singer 20U143 industrial sewing machine

Singer 20U53
PERSPECTIVE
Machines of class 20U have been in production for over 20 years. They offer the versatility of medium speed straight stitching, zig-zag stitching, and satin stitch embroidery.
CHARACTERISTICS
SINGLE NEEDLE
LOCKSTITCH
ROTARY HOOK
DROP FEED
MEDIUM SPEED
AFFORDABLE PRICE
EXTRA WIDE BIGHT
APPLICATIONS
For stitching and embroidering light to medium-heavy weight materials.
Designed for natural and synthetic fabrics and light weight leather.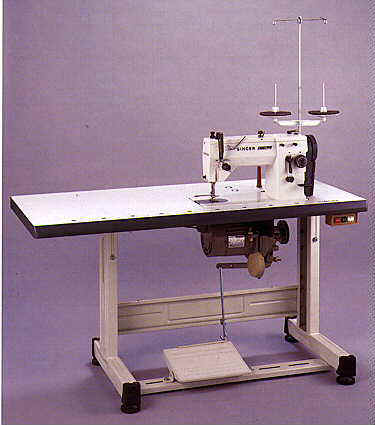 20U53 with "T"-Leg Drive Unit
FEATURES
Perfect straight stitching. Needle bar frame locking clamp engaged by a quick 1/4 turn of a knob.
Built in bobbin winder.
Hook automatically advances and retards timing according to zig zag width (except 20U51, 20U53)
Independently adjustable forward and reverse stitch lengths.
Buttonholes produced by means of right, center, and left needle positions, on most models.
Extra wide 9mm zig zag bight on all models; 12mm available on some models.
Knee lifter to raise foot when set to tang 1. Allows control of embroidery when set to tang 2.
Satin stitch embroidery features:
Knee control allows operator to vary width of zig zag or satin stitch WHILE SEWING.
Zig zag or satin stitch can vibrate from left, center, or right, on most models.
Zig zag or satin stitch bight can be set within a minimum and maximum range.
Zig zag plate, straight stitch plate, and embroidery/darning plate included.
Zig zag/satin stitch and straight stitch feed dog included.
Accessory feet included.
SPECIFICATIONS
20U53
20U63
20U51
20U62
20U143
20U142
Powered by
motor
foot
motor
Application
all
embroidery
all
embroidery
Speed, Max. (S.P.M.)
2500
2000
2500
2000
2000
2000
Maximum Stitch Width (bight)
.34" (9mm)
.46" (12mm)
.34" (9mm)
.46" (12mm)

Clearance Under Foot (by hand lifter)

1/4" (6.4mm)
no foot
1/4"
no foot

Bed Size

15.72" (399mm)
18.75" (476mm)
Work Space
8.18" (208mm)
11.31" (287mm)

Needle Bar Stroke

1.375" (34.8mm)

Stitch Length, Max.

0.2" (5.0mm)
n/a
0.2"
n/a
Stitches Per Inch, Max. #
5
n/a
5
n/a

Stitch Type

301 and 304

Needles

135x9, 135x7, 135x5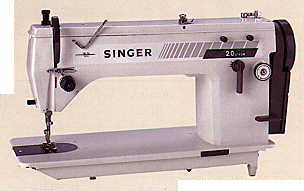 Singer 20U143 Long Arm